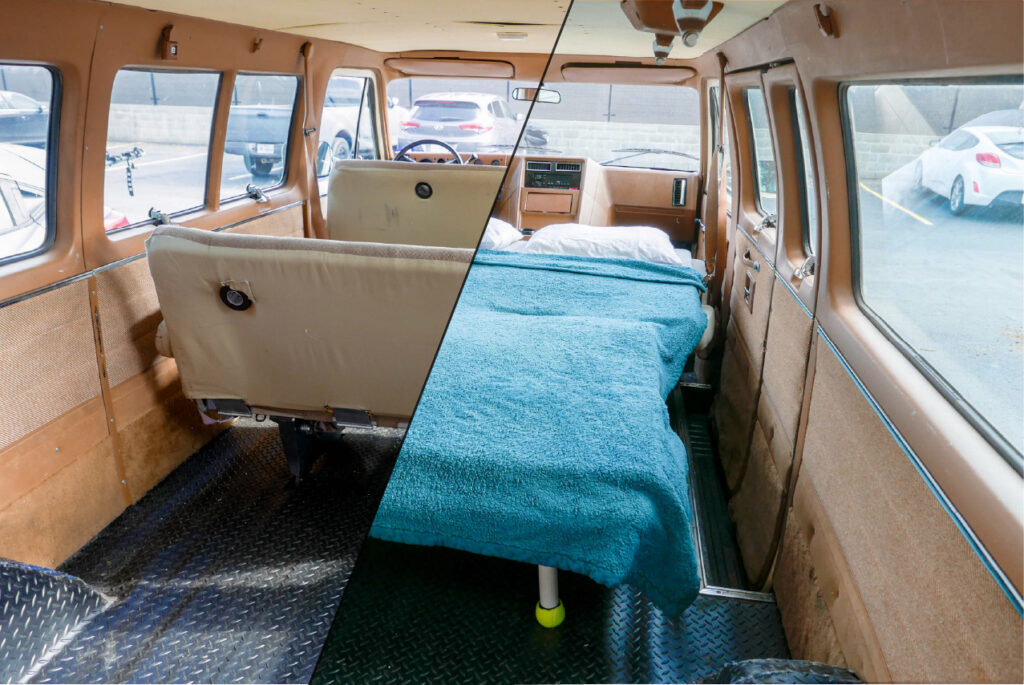 This post details my process of building and adding fold-down bench seats to an old van.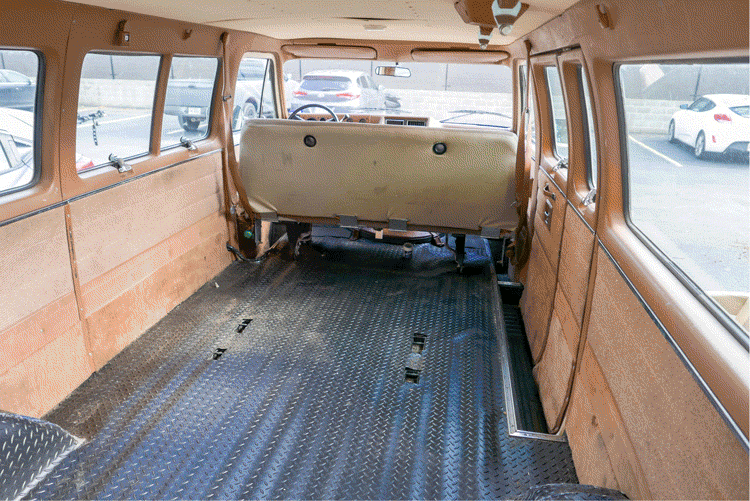 I've been restoring a '91 Chevy G30. I want to be able to use it as a roadtripping and camping van, but not lose the ability to haul cargo and passengers. Ideally, my van would have 2-3 rows of removable seats that can fold down into a large bed.
As of 2019, it's very difficult to find aftermarket seats like this in the U.S. There are seats like this or this, but they are $3,000+ and ship from Europe. There are also some cheaper fold-n-tumble seats for Jeeps, but they are too narrow.
Seats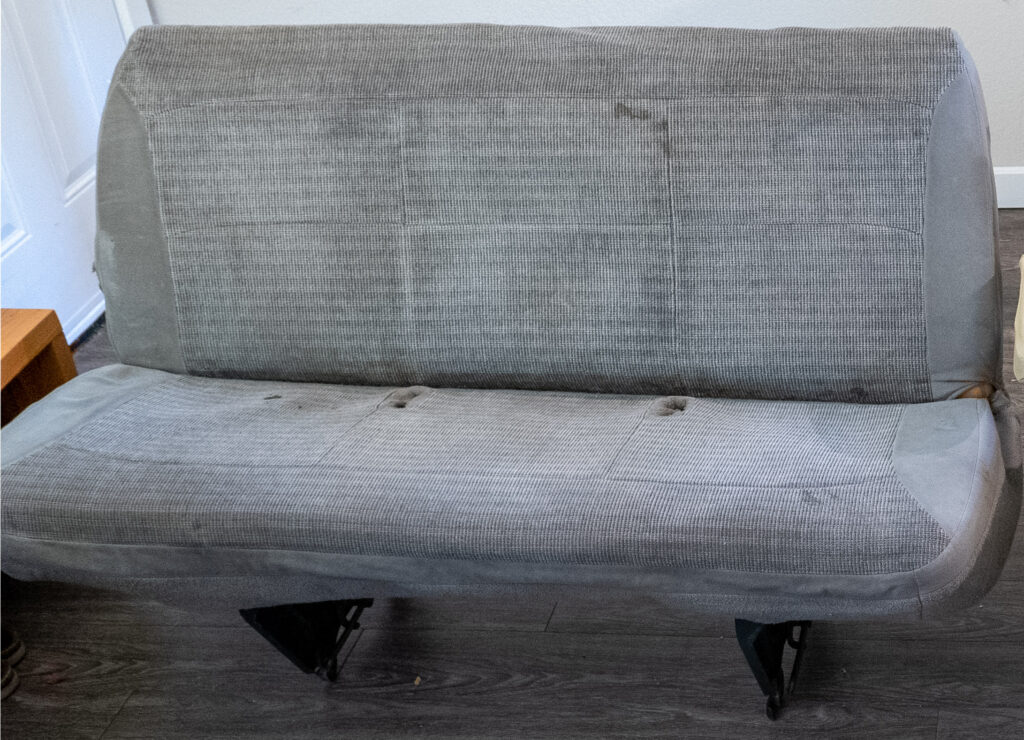 Since I was unable to find any good seats, I had to fab my own. I started by buying 4 bench seats from a 2002 Ford E-series van via Craigslist. They are fixed bench seats – there is no folding action.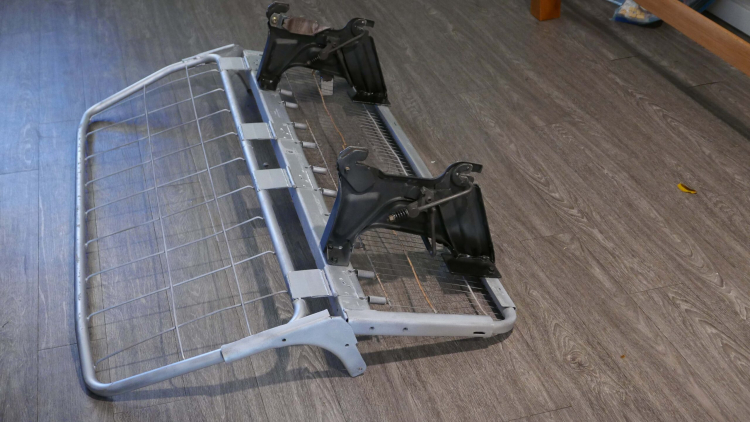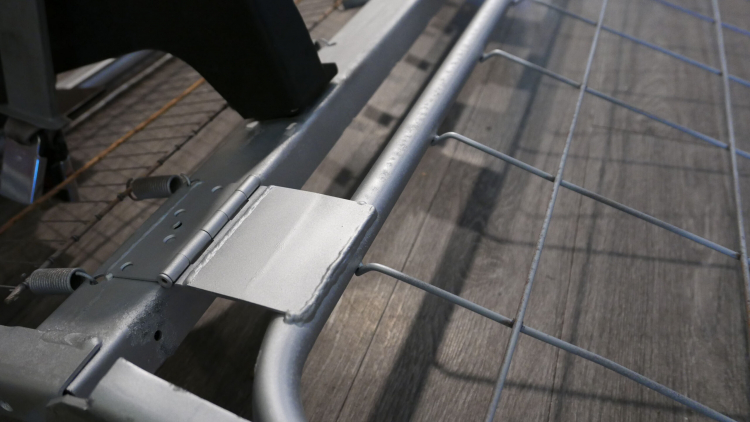 van-bench-seat-11
4 hinges added between the seat and backrest


I started by stripping them down. I welded 4 full-size door hinges onto each bench. These give the fold-down action, yet are quite strong. The seats lock firmly into the upright position with these extra-long trailer pins.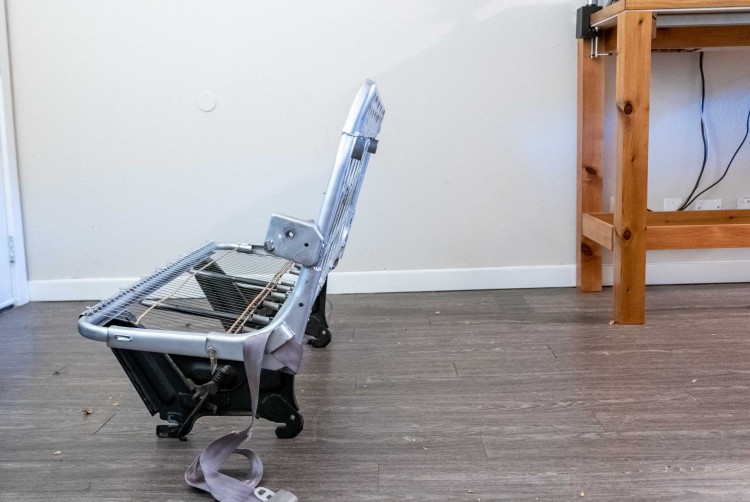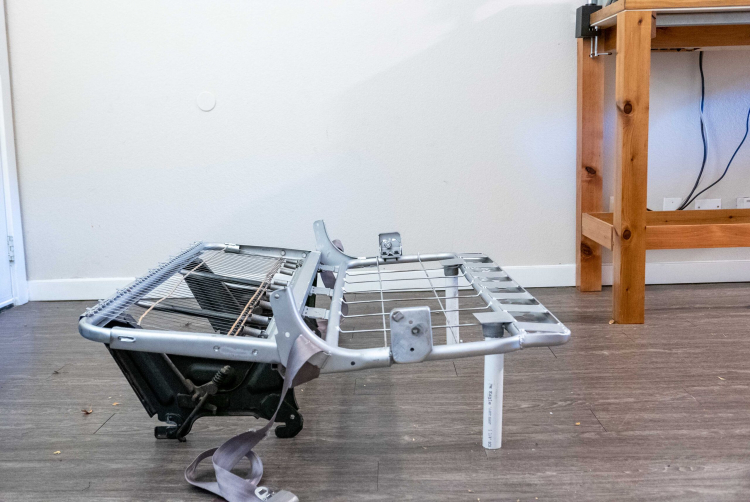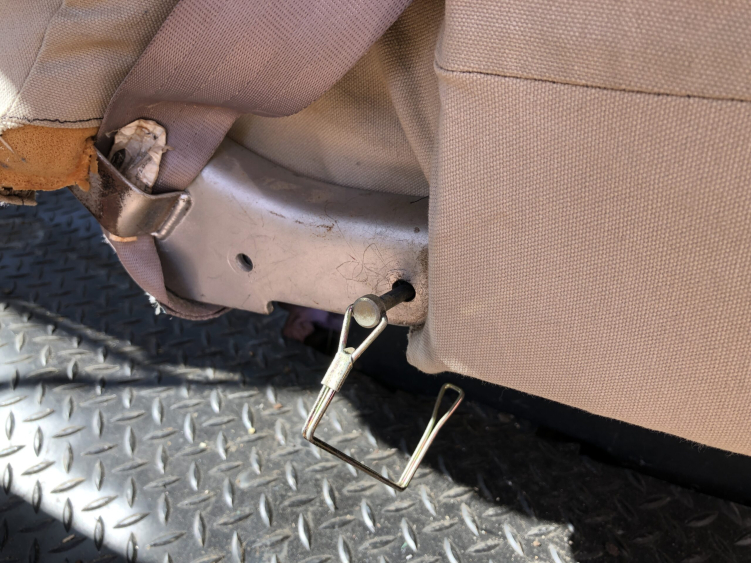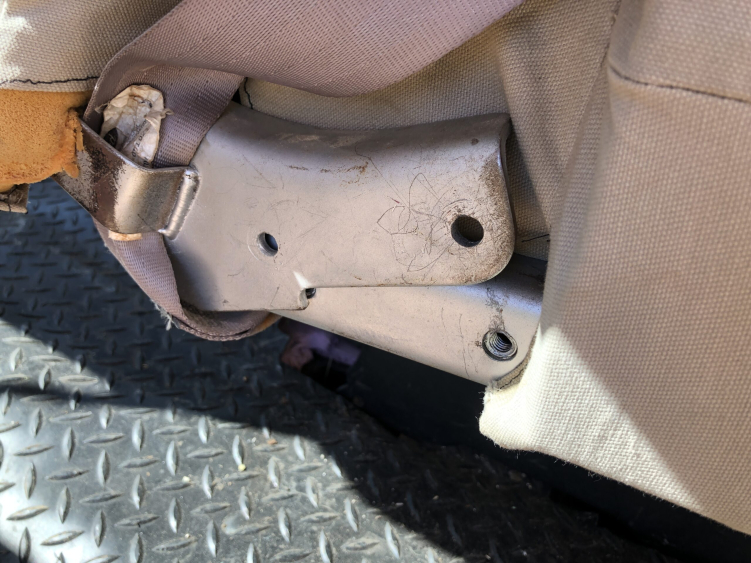 van-bench-seat-15
Seat in laid down position



In order to support the benches in the lay-down position, I added pipe ends to hold the legs. PVC tubes are used as legs.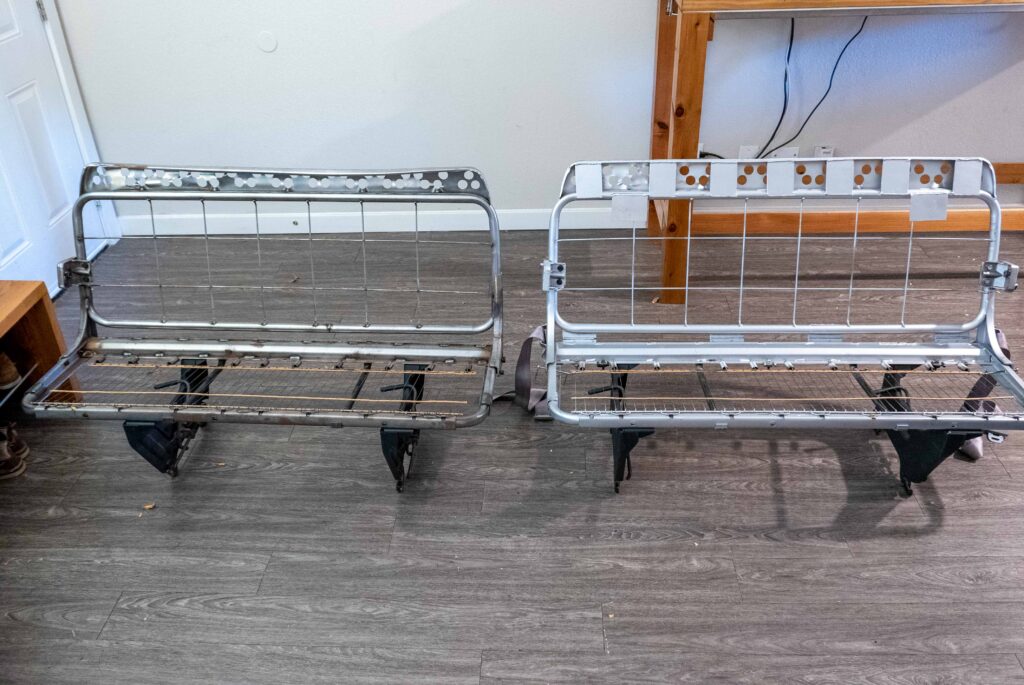 I sanded and painted the seat frames and added extra reinforcing bars at the top of the backrest.  The top was very weak, so it had got all bent from the previous owner.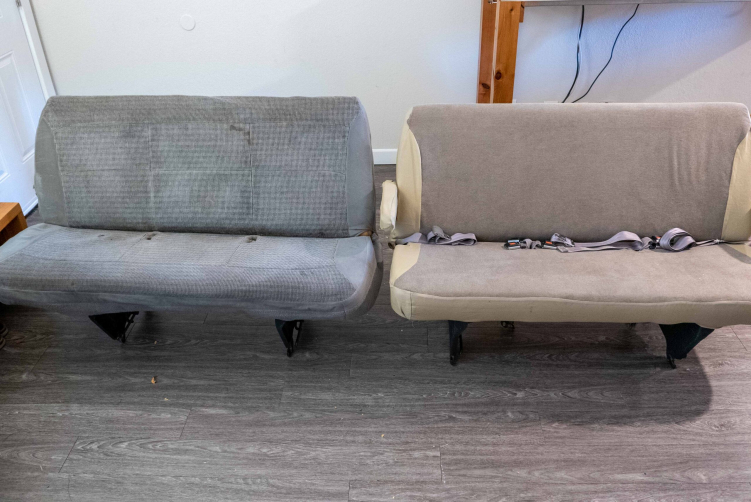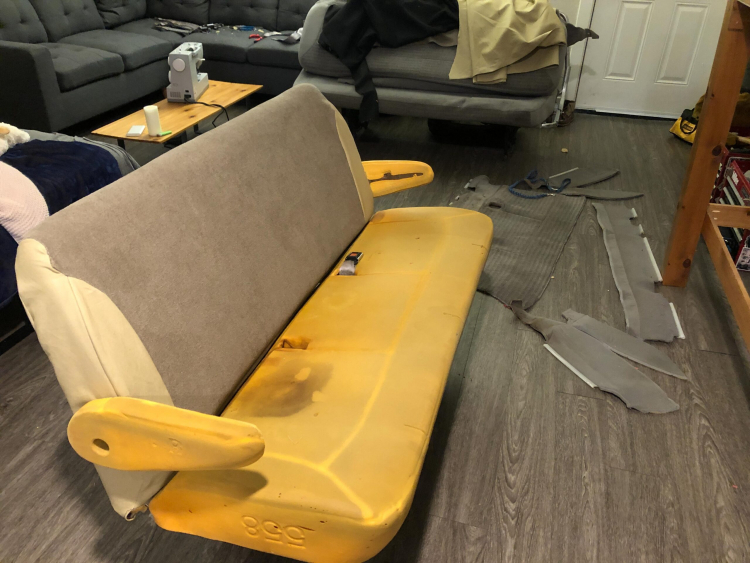 van-bench-seat-17
Left: original upholstering Right: new upholstering


In addition to the seats being dirty and stained, they also didn't match my van's color scheme.  I bought khaki and brown duck canvas and reupholstered the seats.  This was the most time consuming process. 
Before I get into the mounting of the new seats in the van, let's take a quick aside on the floorboard.
Flooring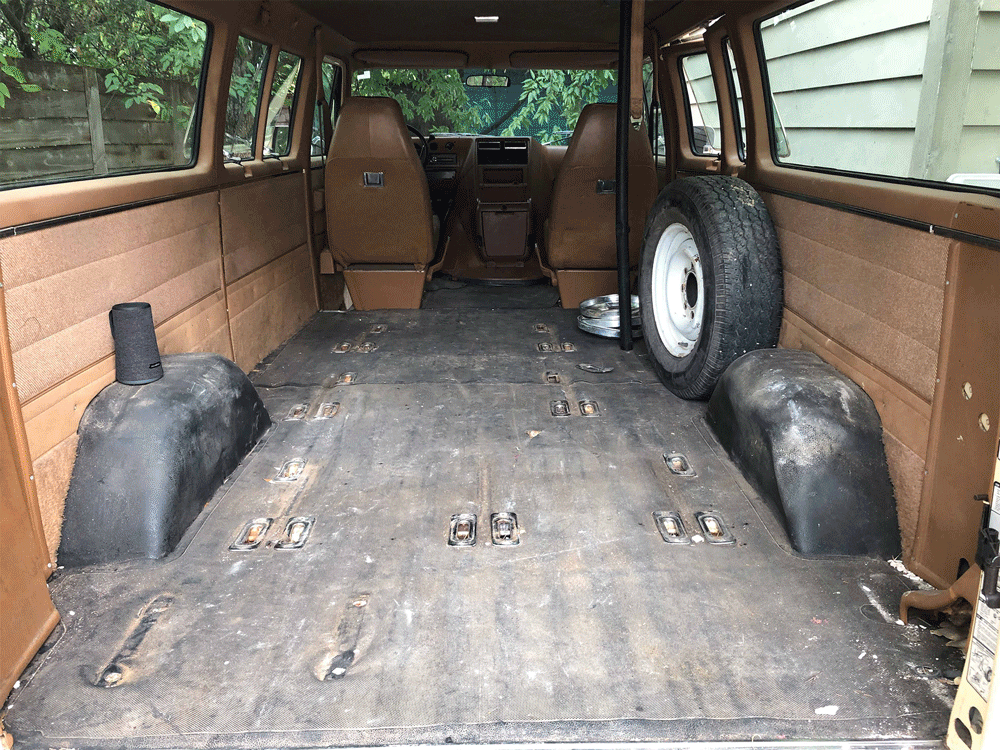 The rubber mat in this van had to be replaced. It tore apart as easily as paper and the padding underneath was turning into compost.
It took me about 2 weeks to sand and grind all the rust spots away, then another week to prime and coat the flooring with truck bed liner.
I couldn't find a car mat that was at least 7′ x 14′, so I bought a rubber mat for a garage floor. This fit pretty well into the van.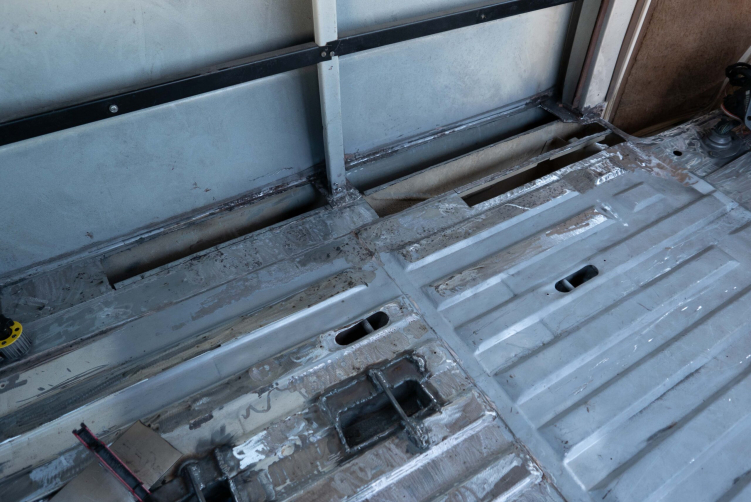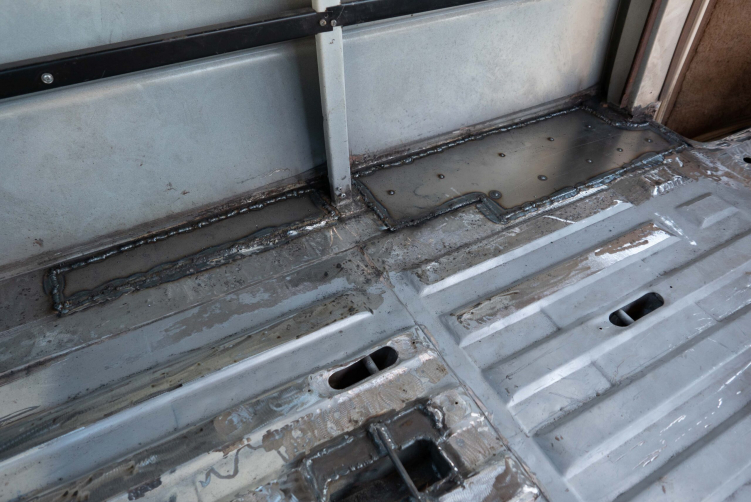 van-bench-seat-18
rust areas cut away (top of image)
van-bench-seat-26
Replaced with fresh sheet metal


There was one corner where sitting water must have sat for a long time. I had to cut out that section and replace it with fresh metal.
Front Seat Mounts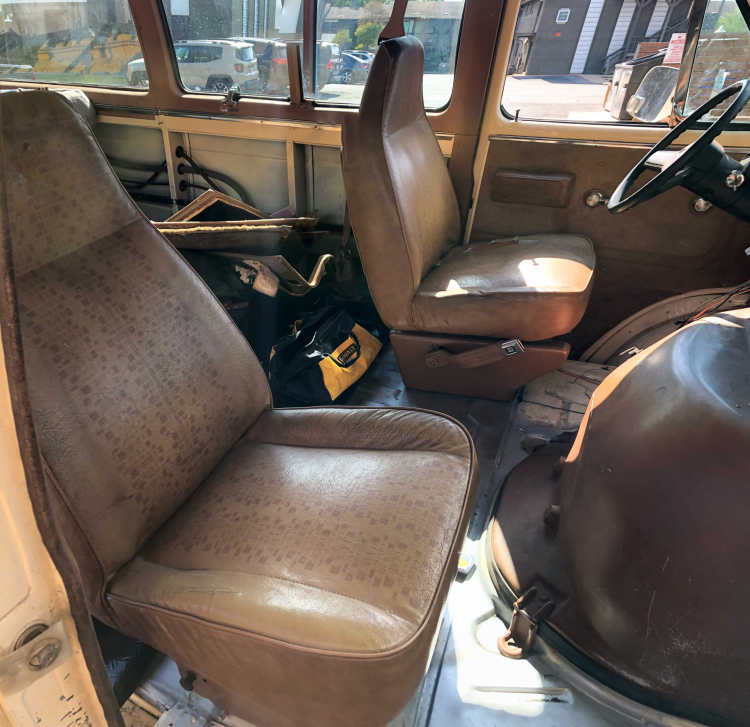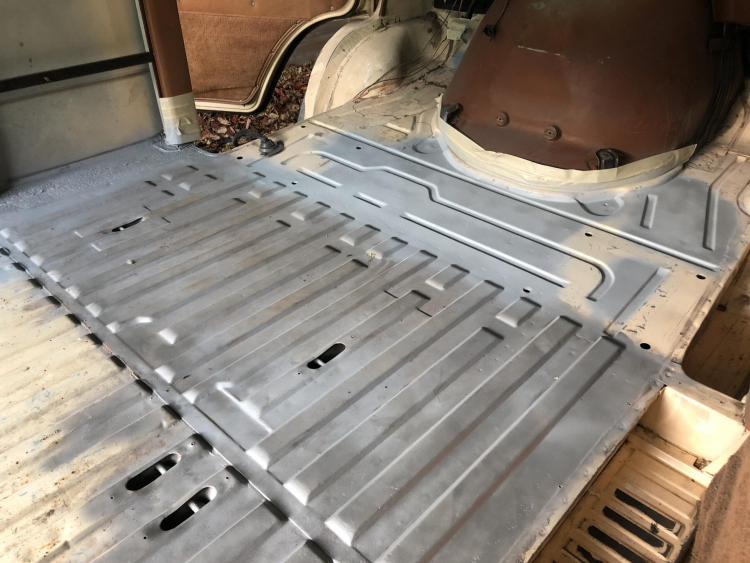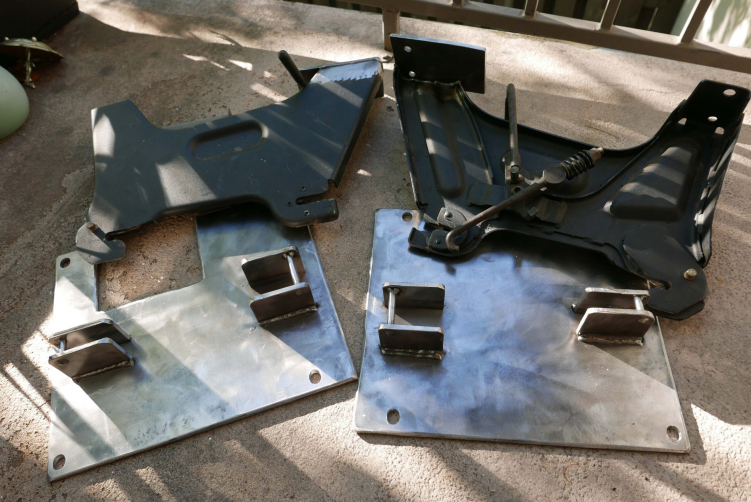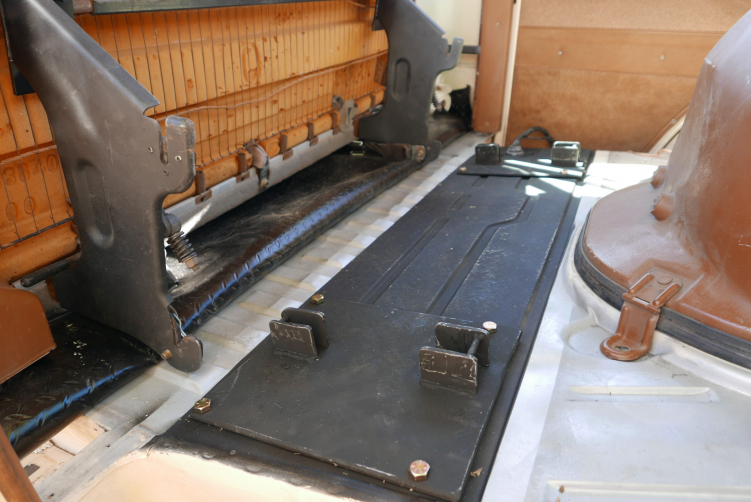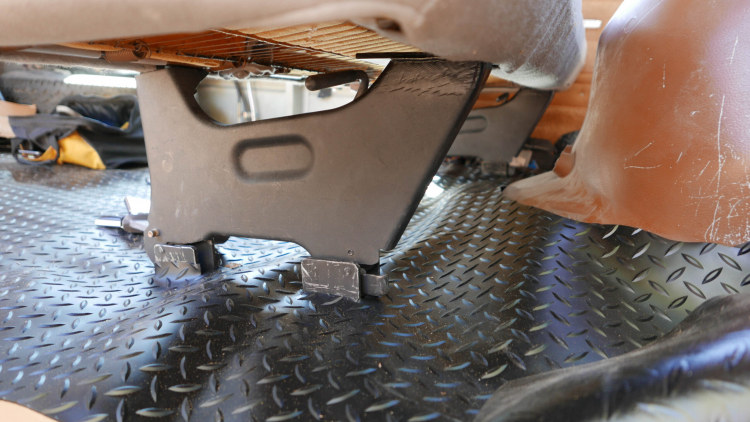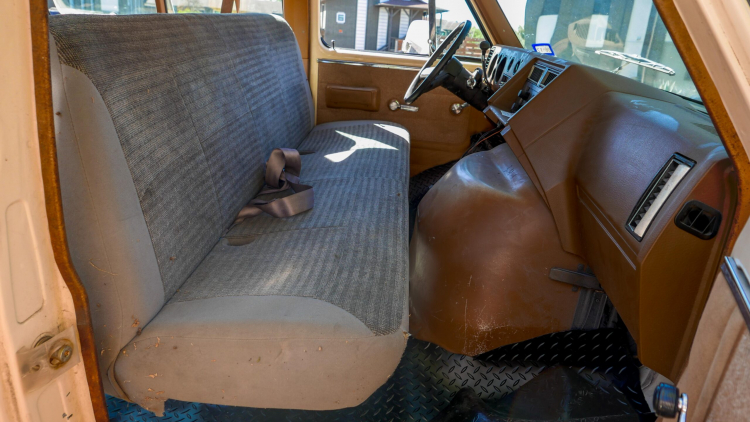 van-bench-seat-03
Bucket seats removed, mounting holes exposed
van-bench-seat-07
Fabricated mounting brackets for the new bench seat
van-bench-seat-08
Mounting brackets installed






The Ford Econoline seats have high quality, metal mounting brackets with quick-disconnect levers. This is one of the primary reasons I bought these seats – they can be installed and removed quickly without any tools.
Since the Ford seats aren't compatible with the Chevy's floor mount, I had to fabricate new mounts.
The front seats mounts are made of 1/4″ steel plate and bolted into the original bucket seat mounting holes with grade 8 bolts. There are large metal brackets underneath the floorboard to keep the bolts from ripping out of the sheet metal floor in a car crash.
Rear Seat Mounts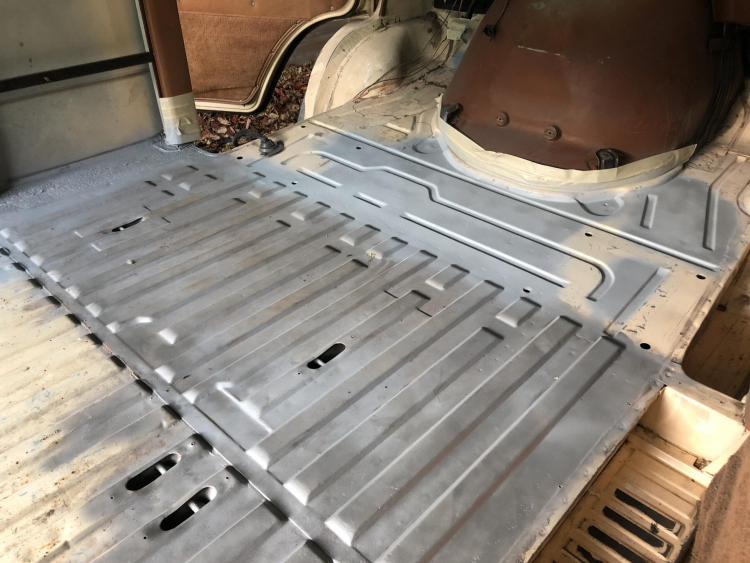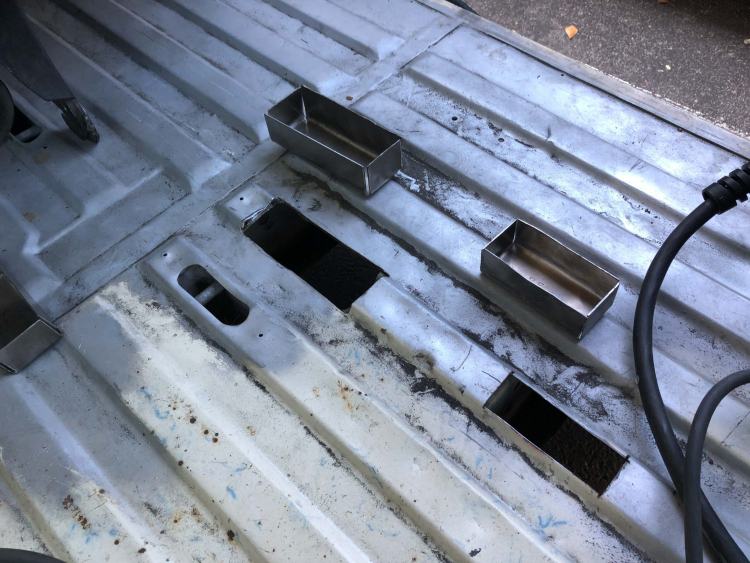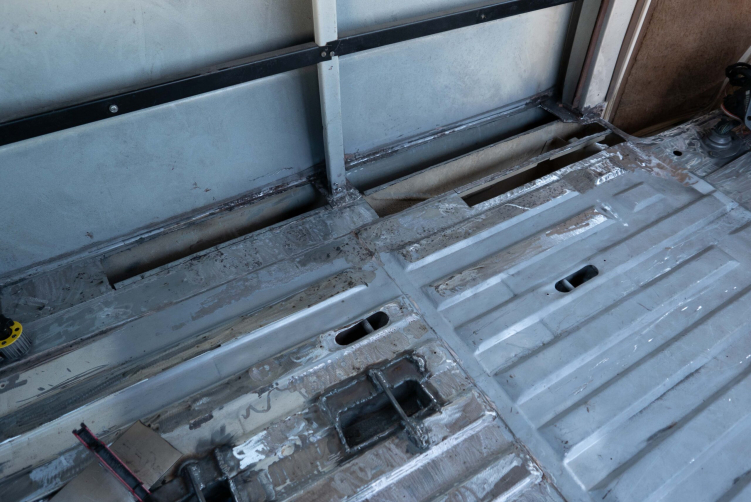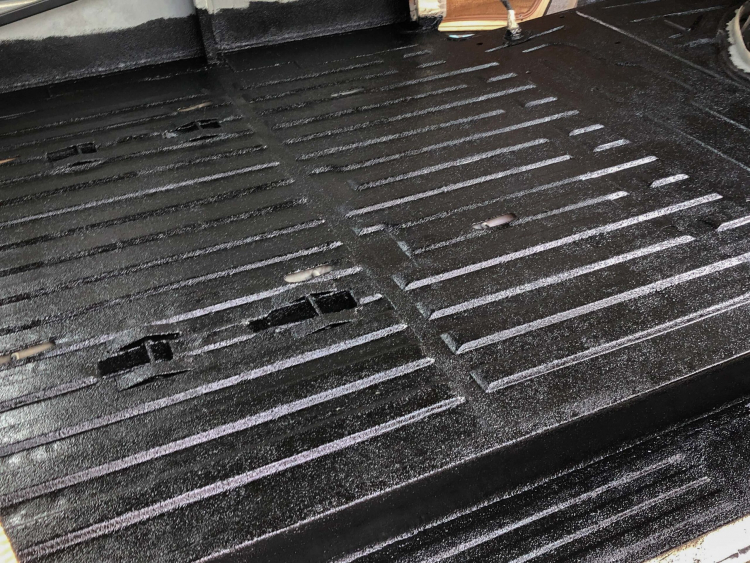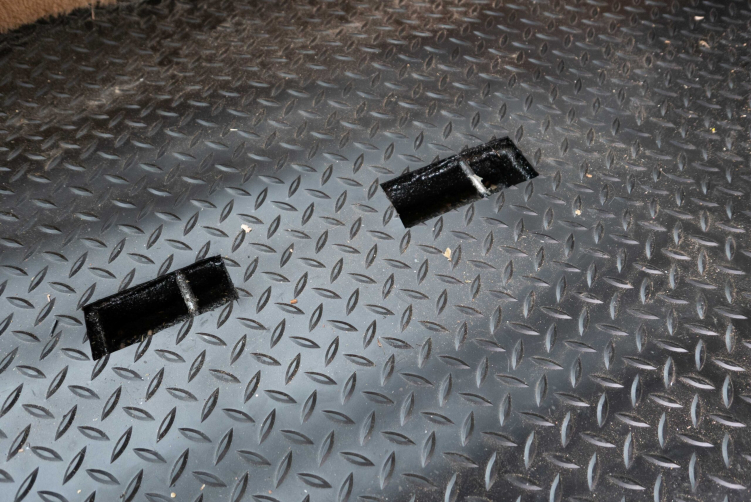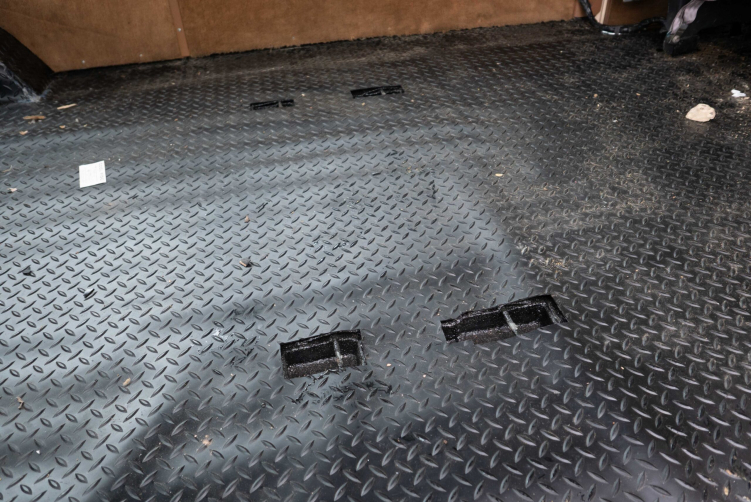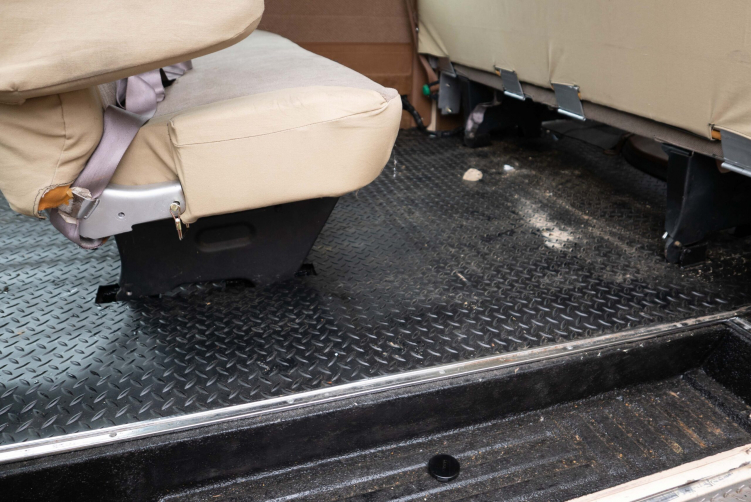 van-bench-seat-03
Original floorboard with stock mounting locations.
These did not align with the new bench seats.
van-bench-seat-05
Floor holes and fabricated inserts
van-bench-seat-18
(bottom of image) Insert and metal bar welded to flooring and frame underneath.
van-bench-seat-06
All 4 rear mounting points after truck bed coating.
Each mounting bar has 2 reinforcing plates welded down for extra safety.
van-bench-seat-19
Rear mounting points with floor mat installed
van-bench-seat-20
All 4 rear mounting points







For the rear bench seat, I had to mount it lower to get a comfortable seat height and angle. I cut holes into the floor and welded in custom mounting brackets. For extra safety and peace of mind, I added reinforcing metal straps to keep the seat firmly attached.
Seat Legs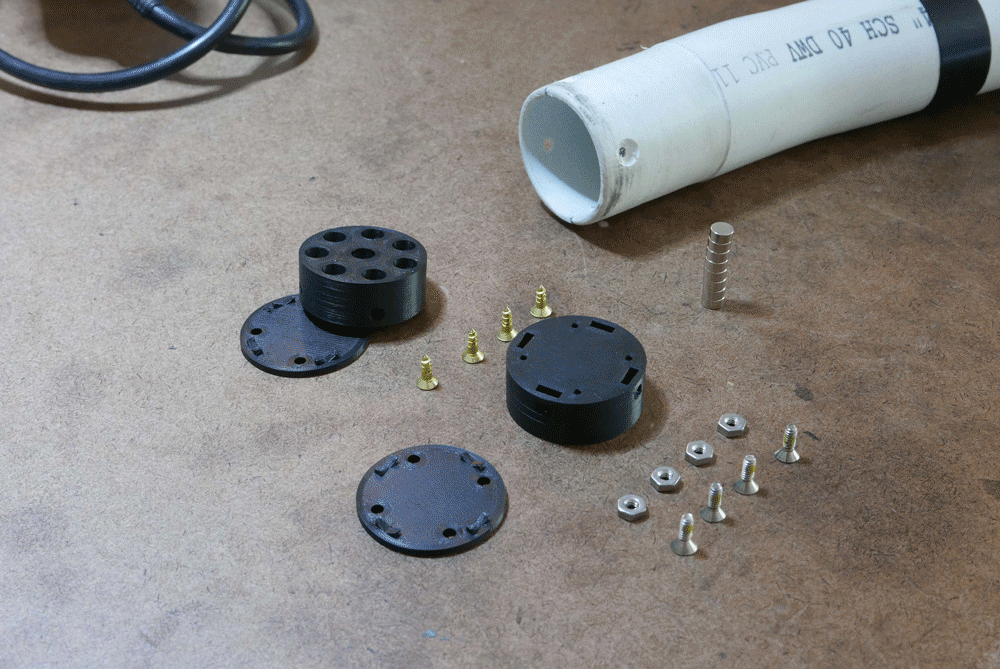 The legs are over-engineered and highly satisfying to use. I started with 1-1/2″ PVC pipe, bent them with a heat gun, added tennis ball feet, and a set of magnets for quick installation and removal.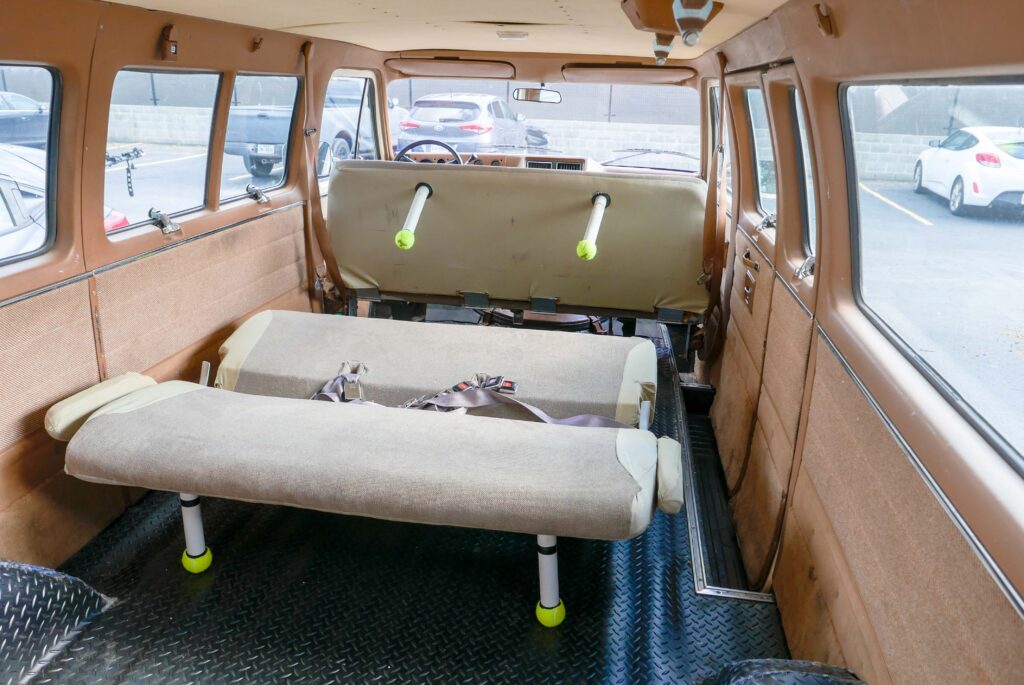 This picture shows how the legs attach to the seats.
Mattress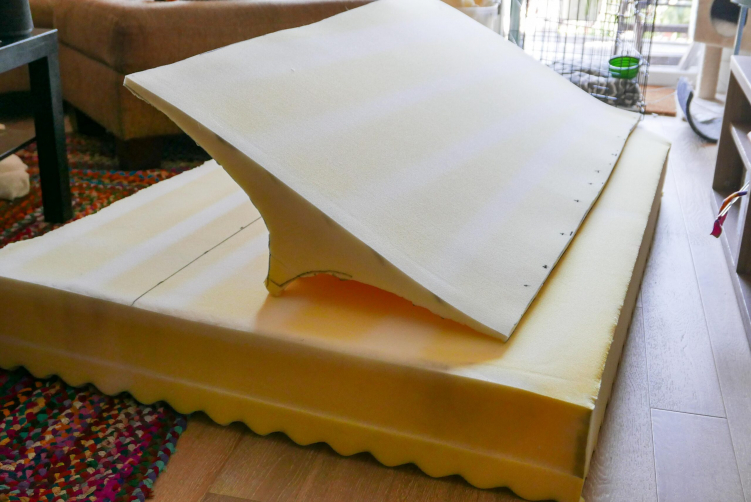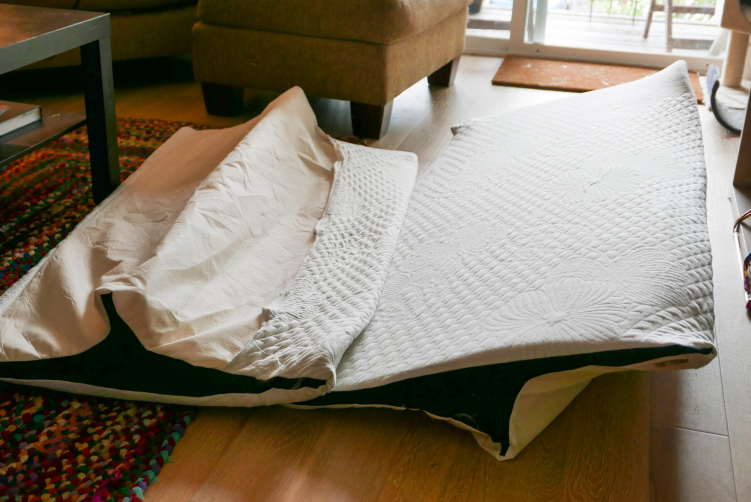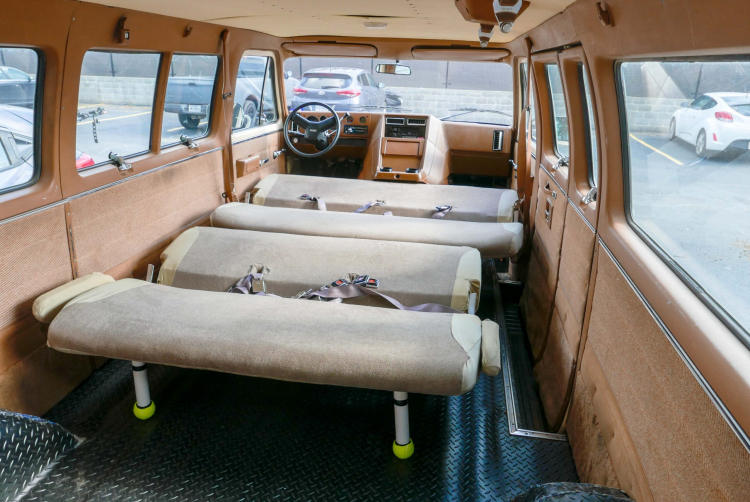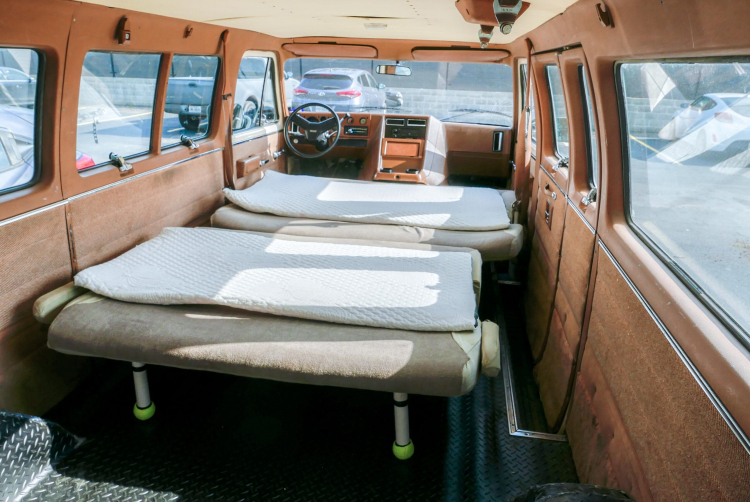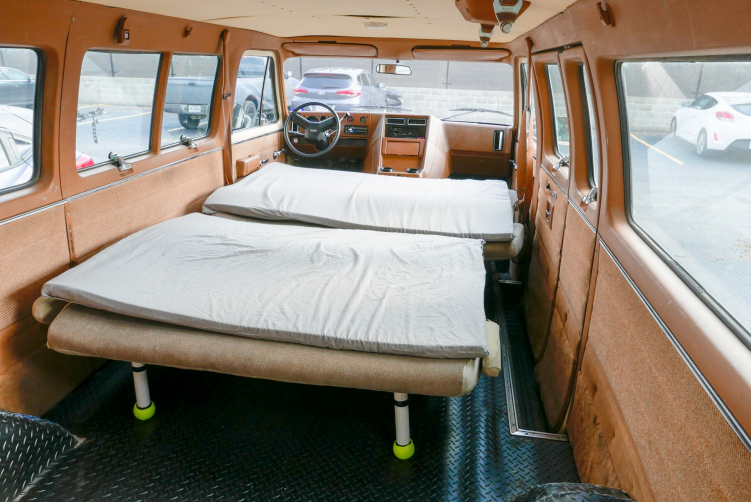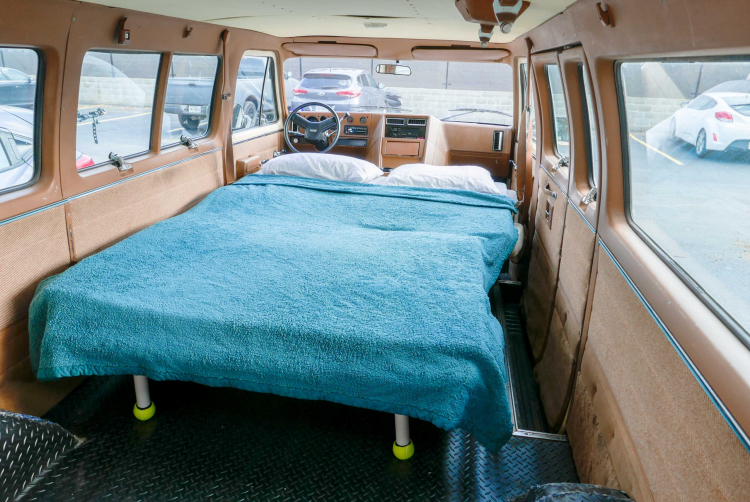 van-bench-seat-28
One cut mattress insert (top) and remainder of uncut mattress (bottom)
van-bench-seat-29
Mattress inserts with custom removable covers
van-bench-seat-40
with blankets and pillows







To make a perfectly flat sleeping surface, I cut mattress inserts out of a foam queen-sized mattress. I made mattress covers and a set of mattress toppers. It's very comfortable.
Conclusion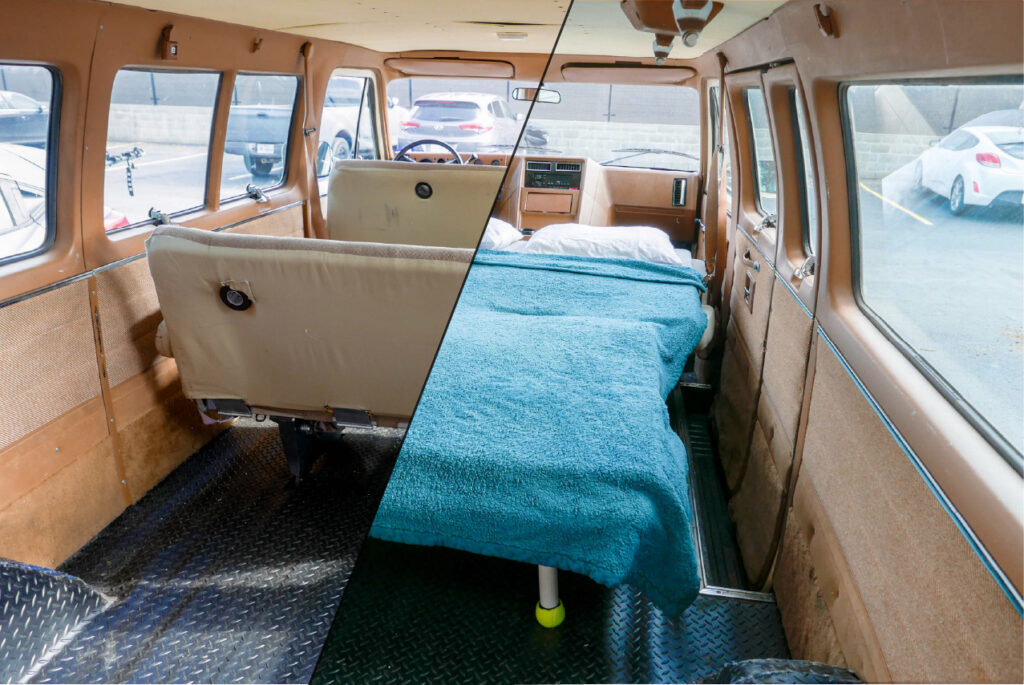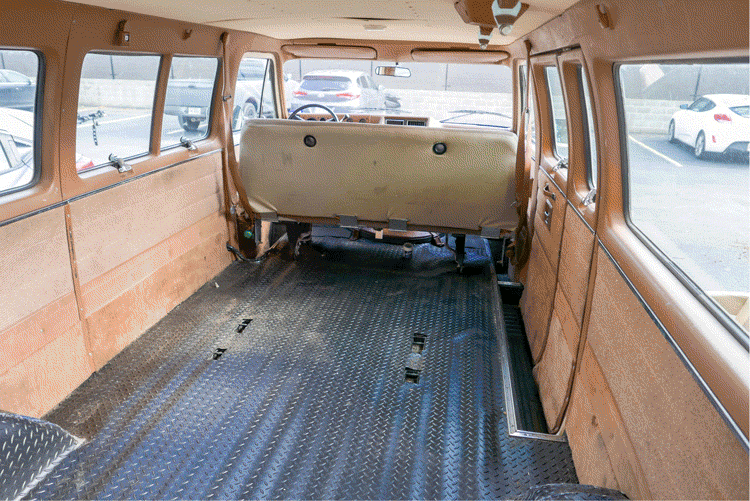 These seats were a huge success. The bench seats are comfortable for both driving and sleeping and takes 2-3 minutes to convert between driving and sleeping. They can hold lots of people and things, look mostly OEM, and are easy to remove, allowing the entire van to be used for cargo.